Jaipur is the most preferred city in Rajasthan when it comes to travel the top tourist destinations of India. The capital city is the finest example of cross-culture and civilization. Every year it is flocked by tourists and travellers from every part of India. The beauty of Jaipur allures every class of people. Jaipur is a city which is full of tradition, glitz, culture, style, class, luxury and entertainment. The charm of luxurious hotels in Jaipur is fascinating to several visitors every day. But that does not mean you have to spend a fortune on getting an accommodation in the city. Thanks to the Oyo hotels in Jaipur that gives you the great opportunity to tighten your budget, allowing you to experience a regal Jaipur.
We all know that touring has become very expensive. An individual always tries to save as much as possible on a trip by cutting down on unnecessary expenditure. There are numerous low budget tourists and travellers frequently visit and enjoy the beauty of Jaipur. The Oyo hotels in Jaipur are all geared up with plenty of cheap hotels in Jaipur for such low-budget tourists and travellers.
Looking for Oyo rooms in Jaipur near to Railway Station, Bus Stand or Jaipur Airport? These hotels are near to the city centre and have easy access to all local attractions, commercial areas and government offices.
If you want to experience luxury but within the budget, this hotel with 5-star amenities will fulfil your wishes. Conveniently located in the city centre the hotel offers 90 well-appointed elegant rooms with modernity and comfort. This regal Hotel has all the facilities and is fully equipped to suit the requirements of both business people or people who have come to travel on vacation. They have a multi-cuisine 24 Hours restaurant with a variety of beverages and snacks. They allow check- in on your mobile screen and menu on your mobile screen after QR code scanning for the touchless experience to keep their valued guest safe.
Hotel Facilities – Air-conditioned, Fully Furnished bedrooms, TV, Geyser, Electric kettle, Smart lock rooms, 24 Hours in-room dining, free Wifi, Elevator, In-house Restaurant, Card Payment, CCTV Cameras, Banquet Hall, 24/7 Check-in, Daily Housekeeping, Full Power backup, Iron, doctor on call, free Wi-Fi, rooftop swimming pool, health club, spa & valet parking.
Address – 22 Godam circles, Durgadas Colony, C Scheme, Ashok Nagar, Jaipur
The Heritage Hotel
Located in the Manpur Sadwa area in Jaipur, the Heritage Hotel provides you comfort like nowhere else. They have well-furnished rooms with a bath area having combination tiles with modern fixtures. The hotel also offer pre-meal-booking for breakfast, lunch and dinner to ensure your stay is hassle-free. They have a great seating space in the lobby as well as an in house restaurant.
Hotel Facilities – AC, TV, Free Wifi, Kitchen, Swimming Pool, Laundry service, Jacuzzi, Power backup, Geyser, Parking Facility, Elevator, In-house Restaurant, Card Payment, CCTV Cameras, Conference Room, Banquet Hall
Address – Sarai Bawari Rd, Jal Mahal, Sarai Bawari, Jaipur, Rajasthan 302027
This hotel is the perfect amalgamation of heritage, luxury and comfort. Their traditional style Interior with palatial structure is quite appealing. sets this hotel apart from others. The courtyard area of this hotel houses a beautiful restaurant that doubles up your dine-in experience. A trip to Jaipur will be successful if you choose this Oyo hotel in Jaipur as your stay option.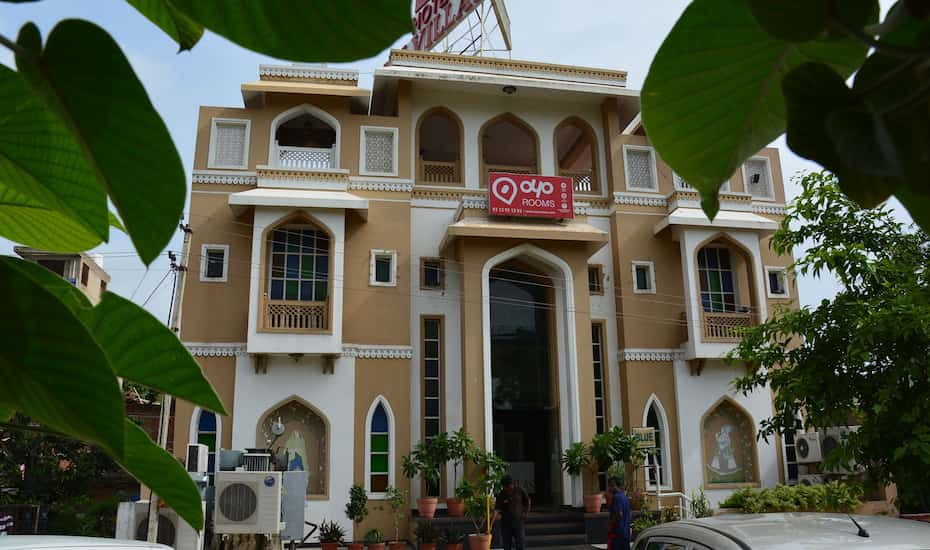 Hotel Facilities – Air-conditioned rooms, Card Payment acceptable, TV, Geyser, Dining Area, CCTV Cameras, Kitchen, Bar, In-house Restaurant, Conference Room, Pre Book Meals, free Parking Facility, Complimentary Breakfast, Elevator, Banquet Hall, Free Wifi, Power backup.
Address – Near New Atish Market Metro Station, Gopalpura Bypass Rd, Mansarovar, Jaipur
Hotel Maharani Prime
This hotel is classy yet has a simple look with modern furnished rooms. The rooms are spacious, bright and well-designed with Wi-Fi, flat-screen TVs and kettles, as well as sitting areas. The interior reflects Mughal influence with motif ceiling decor and carved building structure. They offer free parking and continental breakfast. The hotel also allows you to cook on your own including cooking utensils in its features.
Hotel Facilities – Jacuzzi, Elevator, Geyser, Room Heater, TV, Hair Dryer, Dining Area, Iron facility, Room Service, Free Wifi, Air-conditioned room with enough Ventilation, Complimentary Breakfast, 24 hour Accessible Kitchen, Swimming Pool, Modern Wardrobe, Wheelchair Accessible, Bar, Laundry service, Parking Facility, relaxed In-house Restaurant, Card Payment, Conference Room, Power backup, CCTV Cameras, Banquet Hall, Work Space
Address – Bus Stand, Opp. Metro Pillar No. 193, opp. Sindhi camp, Shri Ram Colony, Sindhi Camp, Jaipur
Hotel Tulip Palace
Hotel Tulip Palace is a prominent selection among several travellers due to its affordable price range with utmost comfort. It has cosy rooms that have been adorned elegantly and are well-furnished. The noticeable part of these room are the plush sofa they incorporate. They make the room look impressive proving that you haven't wasted your money at a wrong place. One can also opt if they want to include meals in their stay. The hotel provide both lunch and dinner facilities.
Hotel Facilities – Laundry, 24 hours Accessible Kitchen, Great room Ventilation, Complimentary Breakfast, Pre Book Meals, AC rooms, Room Service, Free Wifi, Hair Dryer, TV, Geyser, Jacuzzi, Elevator, Iron, Wheelchair Accessible, Dining Area, Modern Wardrobe, free Parking Facility, In-house Restaurant, Card Payment, Conference Room, CCTV Cameras, Power backup
Address – Opposite Sindhi Camp Metro Station, Station Road, Sindhi Camp, Jaipur
These are the best Oyo hotels in Jaipur that provide great views of this amazing city along with many incredible amenities. Each of these hotels tries to provide the best extravagances and services to its customers, along with keeping the price at a minimum.
FAQs
Oyo Hotels in Jaipur near me
You don't have to bother searching for whether there are any Oyo rooms Jaipur near me! No matter if you are at the railway station, airport or you are at the metro station or bus stand, you will find Oyo hotels in Jaipur at every nook and corner of the city.
Do they follow Safety and proper sanitization measures?
These Oyo hotels in Jaipur uphold high standards of safety and cleanliness. Their covid care includes deep cleaning with hospital-grade disinfectants, hand sanitizing stations, social distancing measures. They take care of your extra safety during the covid pandemic. They follow the daily temperature check, a cleaning checklist with fresh linen and sanitizers for everyone.
Are there any Oyo rooms in Jaipur for unmarried couples?
If you wonder if there are any Oyo rooms in Jaipur for unmarried couples? Yes, the hotel allows unmarried couples with utmost safety and privacy. Usually, they allow check-in for a couple in Oyo rooms with Jaipur local id. While unmarried couples may need Id proof from a city other than Jaipur.
Is Oyo Life in Jaipur available?
For those who are still new to the concept of Oyo Life, Oyo life Jaipur provides fully managed, furnished homes on long-term rentals. Here you can live without any need to manage the homes every day and shifting or buying new furniture. They provide every useful amenity required for daily living. These amenities include Wifi, television, food, housekeeping, CCTV.
There are many students and newly moved in employees who search for accommodation near their institutions or workplaces. Oyo life Jaipur is a one-stop solution offering hostel, PG, flats, with furnished rooms. Have you recently moved into the Pink city? Seeking for accommodation that is reasonable as well as full of facilities? Oyo life in Jaipur is where you get the best.